Start Chatting Already [No Registration Required]
This will take you to the chat room you are looking for
Recommended browsers: Chrome, Firefox.
Y99 uses the browser calling technologies inbuilt in your browser so, if the calling feature is not working, most of the times its your browser's fault.
PC and Android users:
As of now calls between two computers work perfectly. However, if a mobile device is involved, problems begin. First of all, if you or your partner is an Android user, please install the y99 chat rooms android app to fix the calling problems.
If calls on the Android app are not working make sure you have latest Webview by clicking the link below. A Webview is an important system component which you should always keep up to date for smooth operation of our app.
Update Android System Webview from PlayStore.
iOS users:
Dear iOS users please try installing latest version of different browsers (Safari/Chrome/Firefox etc) browsers available on app store. Hopefully, one of them should work for you.
We apologize for giving you the trouble. Unfortunately, calling technologies are improperly implemented in some iOS browsers.
Microphone/ Camera Permission Issue While Calling
This means your Browser or Device didn't grant us Mic & Camera access.
You may have accidentally clicked "Block" when the browser prompted for calling permissions. We can't ask for permissions gain once denied.
To reset the site settings (This will log you out. Don't do it if you don't remember your username and password):
Open y99.in
Click the lock icon in URL bar
Click "Reset" Button.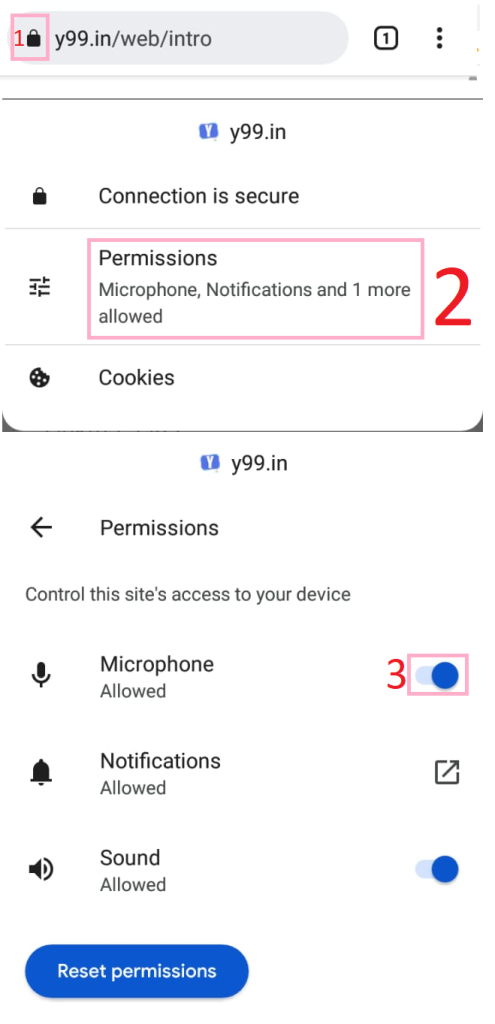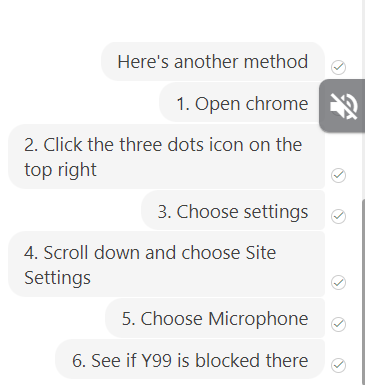 Alternatively, you may try logging into another browser (Firefox is cool for this) or using the android app.
Y99 Meet
If calls on y99 still don't work, you may try Y99 Meet – online voice call link. You will be given a call link which you can share with your friends.