Start Chatting Already [No Registration Required]
This will take you to the chat room you are looking for
To reduce spam & other forms of abuse, y99 lets you tweak some chat room settings.
Banning accounts
You can ban the notorious accounts from your room by clicking on their username in the user list and choosing "Ban User".
You can also ban them by clicking on their message > three dots icon > Ban User.
To ban someone by typing their username, open Room Management Settings and switch to Security tab, click Ban User and type the username.
Password protection
An non-guessable password makes your room completely safe. You can reveal the password to the right people.
Disallowing guests & non verified users
By turning off "Allow guest (non registered) users in room" you can add an extra hurdle for the spammers. This setting wont prevent your room's staffs from joining.
Disallowing new accounts
By changing "How many days old should the user's account be to be able to enter your room?" setting to 3 days or 10 days (whatever fits your case) you will be able to block spammers who create junk accounts every now and then to post spam messages. This setting wont block your room's staffs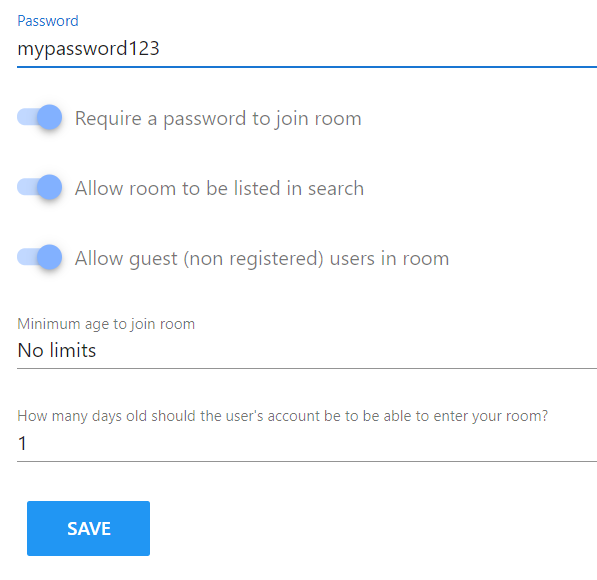 Allow Members Only
The only way to be absolutely safe from abusers is to have a members only chat room where you can add members manually but one can not join by their own will. A room of this sort can't turn into a decent sized community but may serve the purpose for a small group of people who already know each other.
To make a chat room members only on Y99, make your friends moderators in the room and change the room settings field "How many days old should the user be to join the room" to 365 days. This way only mods and 1 year old users will be allowed to join the chat. This is not truly-members only because we are combining moderators + account oldness feature to achieve similar purpose.